8th November
"Action not words" is the message from young people as the world's longest relay Running Out of Time crosses the finish line at COP27 Sharm El-Sheikh and delivers a climate message to world leaders
Nov 8, Sharm El-Sheikh 08:30 EET: At 7,767km the Running Out of Time relay is the longest non-stop relay ever attempted and now it's complete as the relay team crosses the finish line in Egypt!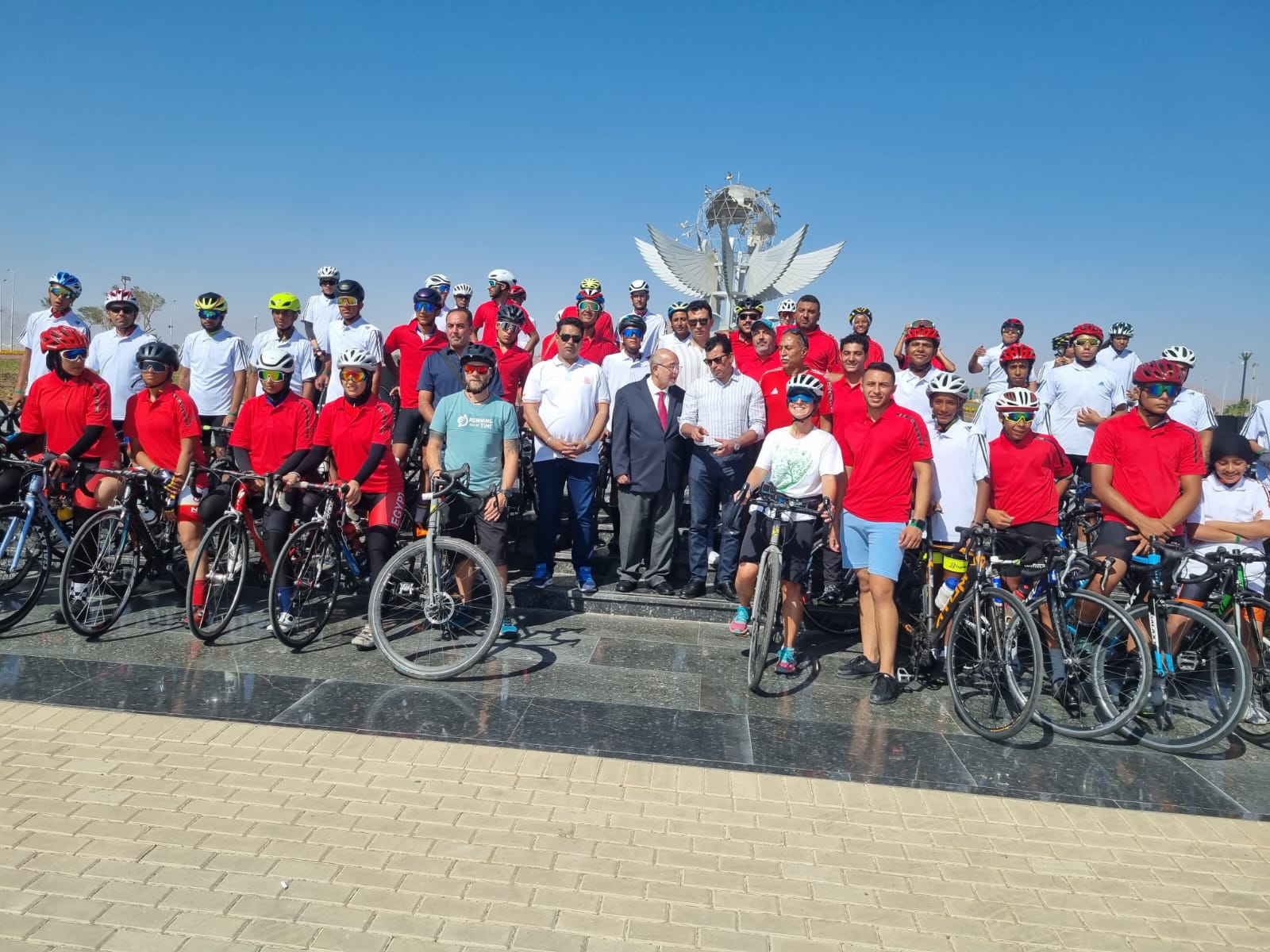 Over the past 40 days (30 September to 8 November) thousands of runners, cyclists and sailors have worked together to pass a relay baton through 18 countries from COP26 host city Glasgow, Scotland to Sharm El-Sheikh, Egypt in the name of climate action and in support of principal partners Foundation for Environmental Education (FEE) and Carbon Copy.
Baton carriers have included Olympians, young people, Head of State President Borut Pahor, mayors, government ministers, city councillors, NGOs, community groups, ambassadors, activists, students, business leaders, friends and families.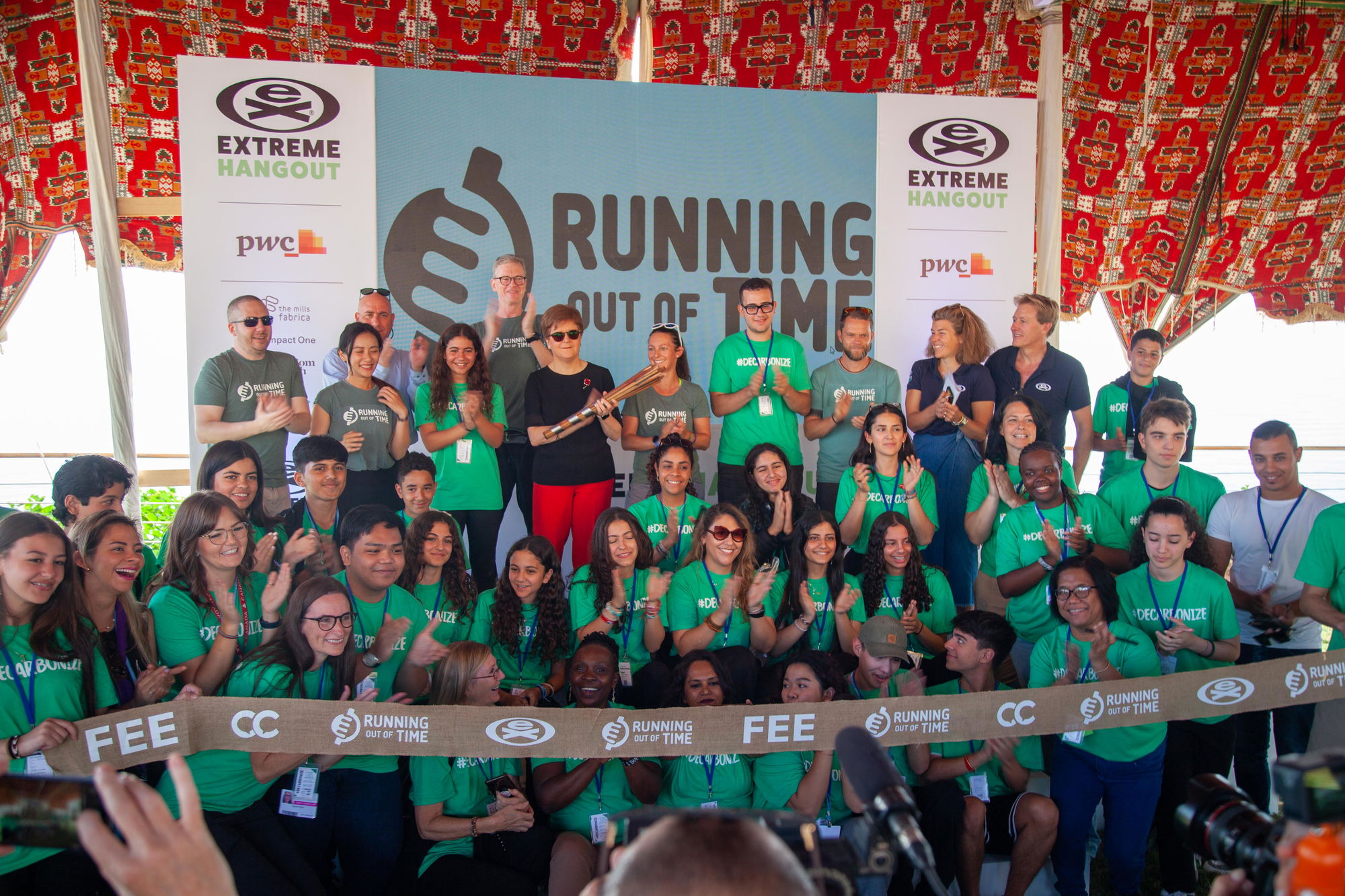 Inside the #RunningOutOfTime baton is a message written in English and Arabic by young people and signed by over 800,000 people, to the decision makers at COP27 calling for quality climate education to equip people of all ages and in all places with the skills, knowledge and opportunities to build sustainable, climate resilient communities.
Meeting the relay team at the finish line is Scotland's First Minister Nicola Sturgeon who says "I want to congratulate all the participants in this world-first relay and welcome the baton as it completes its journey across 18 countries, from Glasgow to Egypt. Their message is clear: climate change is already having a massive impact around the world and if we don't take the right action, things will only get worse.
"The hugely inspiring efforts of everyone who took part show why youth action is so important. Not only have children and young people played a significant role in keeping climate change at the top of the global agenda, but they will also face the greatest impacts of climate change over their lifetimes. "It is only right that we listen to the voices of the next generation, and that we hear them when they challenge us to do more to tackle the climate emergency.
"The Glasgow Climate Pact was an important agreement, which included strengthened efforts to build resilience to climate change, curb greenhouse gas emissions and provide the necessary finance for both.
"Countries cannot row back on the commitments made in Glasgow. COP27 must put a renewed focus on the ongoing delivery of the commitments already made and seek agreement for more meaningful action."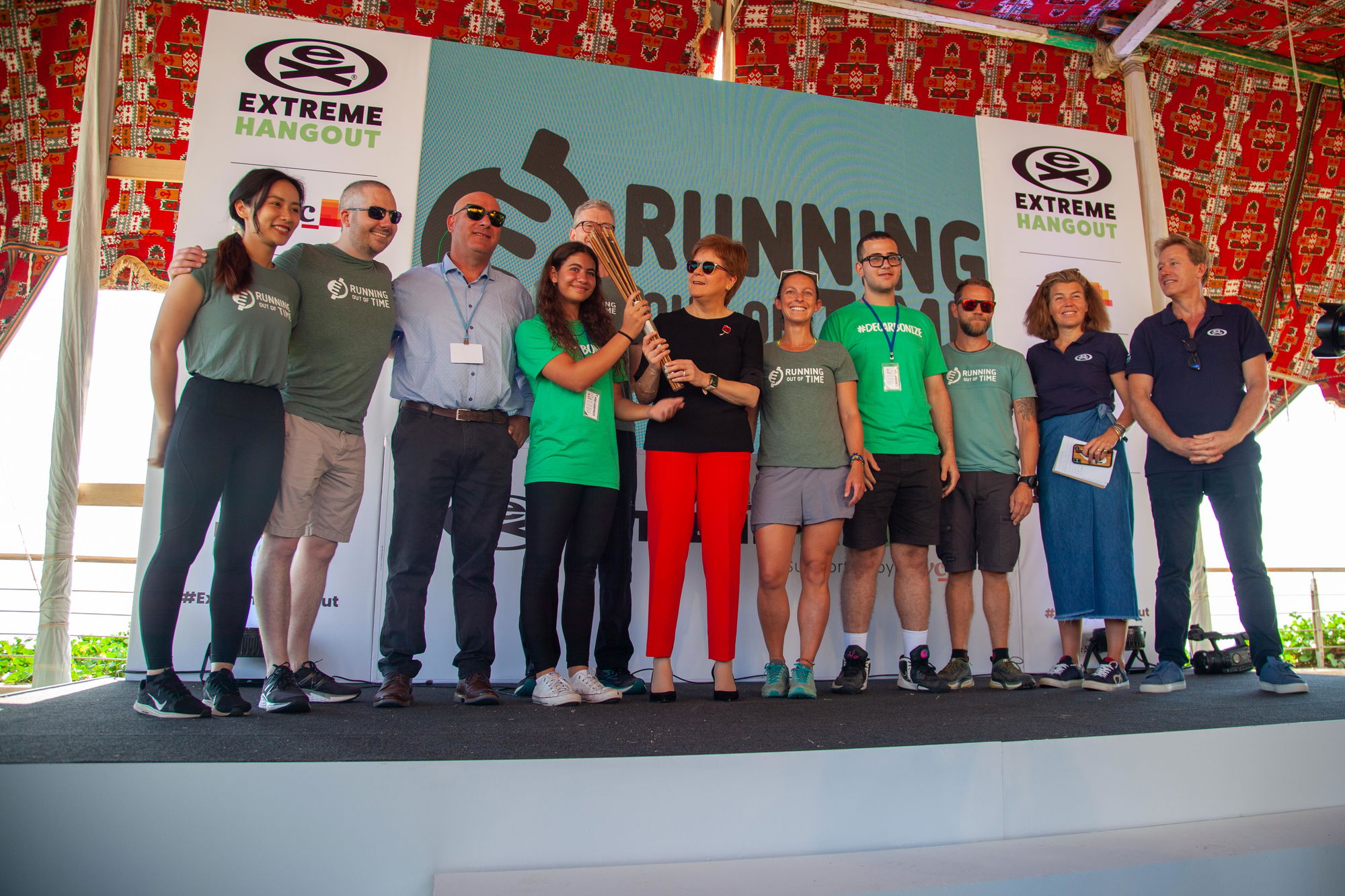 The iconic relay baton was created by award-winning Glasgow-based designers 4c Design. It utilises 18 seemingly fragile parts representing the nations the baton passes through that are stronger together where the exchange of the baton happens. The iconic spiral rings represent the four essential layers of climate action where impact can be made: international, national, local and individual.
Jamie Hay Running Out of Time Co-Founder "What an extraordinary journey to COP27 it has been! We said we would do this and today, as we crossed the finish line, we proved it was possible. We have passed this baton mile after mile, day and night, for 40 days. Thanks to the incredible collective effort of thousands of people, across 18 countries, we have covered the 7,767km from Glasgow to Sharm El-Sheikh.
We've run, cycled, rowed, sailed, windsurfed and skied our way here. Through thunderstorms, hail, wind, snow, and desert heat. We never gave up. We kept moving forward. We kept working together. We've seen first-hand the endless human determination to show up and carry the baton for a cause we all believe in. We turned our words into action and I hope this baton, this symbol of hope, will be a reminder to world leaders that they must do the same."
The baton has travelled non-stop through Scotland, Wales, England, France, Belgium, Netherlands, Germany, Austria, Italy, Slovenia, Croatia, Bosnia and Herzegovina, Montenegro and Albania, Greece, Cyprus, Israel and Egypt. During a 'virtual' Global Stage on Nov 5th hundreds of people from over 60 countries took part in solidarity around the world.
It's crossed seas, mountain ranges, glaciers, and deserts, villages, towns and capital cities. Along the way it has visited hundreds of schools, at-risk locations and climate change projects and championed local climate action.
Ric Casale, Founder Carbon Copy "This incredible climate relay has been a bright green thread over thousands of kilometres that has connected an amazing set of ambitious climate action projects, from community-owned renewable energy schemes to large-scale nature recovery programmes. It has highlighted the awesome potential and power of collective local action. We're urging more resources from leaders at COP27 behind climate action at the sub-national level, at the point where policies are delivered and in places where people must adapt to our changing climate."
Extraordinary moments were plentiful on this epic journey including (but not limited to!) adrenalin-filled crossings of the world's busiest shipping lane The Dover Strait, by rowers, sailors and windsurfers, the Stubai Glacier in the Austrian Alps by foot, solar-boat and rowed across lakes and the Mediterranean sea by sail on a performance trimaran on top of mile after mile of running and cycling.
Hetty Key, Running Out of Time Operations Director says "At the start of this journey, plenty of people thought we were bonkers to take on a challenge of such epic proportions. Now I can see why! The route alone took 4 months to plot! But behind the few that questioned the feasibility of such a bold project, there was an even greater number of people who believed it was possible. Whether they were lacing up their trainers, getting on their bikes, cheering on the streets or giving their valuable expertise behind the scenes - the result is 40 days later, we're here in Sharm El-Sheikh at COP27!
In that same way, no one person could run continuously from Glasgow to Egypt. No one person can tackle climate change. However, I wholeheartedly believe that Running Out of Time has shown the magnitude and scale of what we can achieve when we work together. I hope that everyone connected to this relay sees and feels the impact they have had, and, most of all, understands the sheer power we each have as individuals to inspire change - on a local, national and international scale."
The relay's Global Schools Action Day on November 3rd saw over 755,147+ students from 2,163 schools in 104 countries unite and demonstrate how local actions have global impact. It was an unforgettable opportunity for students to join the call for universal quality climate education, take part in a range of fun activities, and engage with programmes and resources from the world's leading environmental education organisations.
Pramod Kumar Sharma, Senior Director of Education at FEE: "Most people agree that education is a public good. It cannot be called quality education if it does not help communities to face unprecedented changes in our environment. Education has to prepare each one of us to brave the existential crisis that is climate change. Running Out of Time has shown that school communities globally are ready to provide quality climate education. They, however, urgently need an enabling environment in the form of time, space in the curriculum, professional training and relevant resources to deliver quality climate education as a right of every child. We will relay their demand to world leaders at COP 27 and continue to support educational systems globally in greening education."
The finish line of the relay marks the launch of The Extreme Hangout at COP27, a grassroots initiative giving young people a voice to drive climate action. Held over 4 days from Nov 8 to 11 at COP27 from a tented pavilion on the beach front overlooking the Red Sea, the hangout will host live debate and inspiring discussion from key opinion leaders, youth climate activists, politicians, Prime Ministers and environmental commentators, all on a joint mission to amplify the game-changing research and ideas helping to tackle climate change.
Amber Nuttall, founder of the Extreme Hangout, says "It's the global youth who will ultimately suffer the most from a lack of action around climate change. The Extreme Hangout gives them a seat at the table, It's a place where both young and underrepresented people can express opinions, share ideas, collaborate on solutions with decision makers and people in power while informing and inspiring a global audience through a live stream that amplifies their voices and holds leaders to account."
From the finish line the baton set off to the UNESCO Pavilion in the COP27 Green Zone for a welcome ceremony "A Million Voices and 7,767 Kilometres: A Global Call for Climate Education" with partners and high profile guests and where the baton message will be read out.
The relay baton and every participant was supported along the journey by five incredible humans whose smiling faces will be familiar to all who took part: Abe Lim, Mike Borgen, Emily Scott, James Levelle and Eoghan McDonaugh. We can't wait to hear and share their stories!
Dan Thompson Director World Relay says "Everyone working together – and making small sacrifices now to avoid making huge sacrifices in the future – are key to effective climate action. The relay perfectly symbolises these two imperatives. It literally doesn't work unless someone shows up for every stage – even the 3 a.m. ones in the cold and the rain. I'd like to say an enormous 7,767km long thank you to everyone who participated and created such an incredible atmosphere on the road and at the handovers. And to our partners and the countless organisations and running and cycling groups without whom none of this would have been possible!"
See the highlights celebrated here: https://running-out-of-time.com/journey
– ENDS –
ALL ENQUIRIES:


Larissa Clark [email protected] +47 46852672

Press Pack including high quality photos and B-Roll and press releases - LINK

Social media: Instagram @climaterelay | Facebook @climaterelay | Twitter @climate_relay

Press Call: November 8 - We will have two events, back-to-back, that will bring the relay to a conclusion and the baton will be presented at numerous events during COP27.
What? Final stage of the relay
When? 08:30 - 09:00
Where? Beachfront at the Park Regency Hotel, Sharm El-Sheikh, Egypt
We will end the relay at the launch of the COP27 Extreme Hangout at the beachfront of the Park Regency Hotel. Extreme Hangout is a climate action platform giving young people a voice and to drive environmental action.
All attending MUST register here and bring photo ID to the hotel reception to enter: https://www.extremehangoutevents.com/register-cop27
---- Leave the beach at 09:15 and walk to COP27 (50 min walk) ---
What? Relay Baton Ceremony
Event title: A Million Voices and 7,767 Kilometres: A Global Call for Climate Education
When? 11:15 - 12:15
Where? UNESCO Pavilion, Green Zone
This is the Baton's official arrival at COP27!
All media MUST register Green Zone: https://cop27.eg/#/conference/request/green-request-form
Running Out of Time is a collaborative event organised by the World Relay Ltd, multi-award-winning global leaders in mass participation relays. We've organised relays all over the world including relays across the USA and two non-stop month-long relays in London. Awarded honours for these events include Runner's World 'Heroes of Running'. Over 200k runners have participated in our relays raising over £1.9 million for good causes. www.theworldrelay.com
Relay Principal Partner Carbon Copy is a UK charity that inspires big-thinking local climate action to accelerate our progress towards a fairer, carbon zero future. https://carboncopy.eco
Relay Principal Partner Foundation for Environmental Education (FEE) is one of the world's largest Education for Sustainable Development organisations, with over 100 member organisations in 81 countries and a network of over 60,000 educational institutions. http://www.fee.global
Relay Partners - https://running-out-of-time.com/partners Hundreds of partners brought this event to life including sponsorship from Ecotricity, Britain's greenest energy supplier.