30th September 2022
And they're off - record-breaking climate relay from Scotland to COP27 Climate Conference in Egypt begins
30th September 2022, Glasgow: Today, the first of several thousand runners set off from Glasgow, Scotland (COP26 host city) in Running Out of Time, a record-breaking relay to pass a baton 7,767km through 18 countries containing a climate message from young people to world leaders at the United Nations Climate Change Conference, COP27 in Sharm el-Sheikh, Egypt (COP27 host city).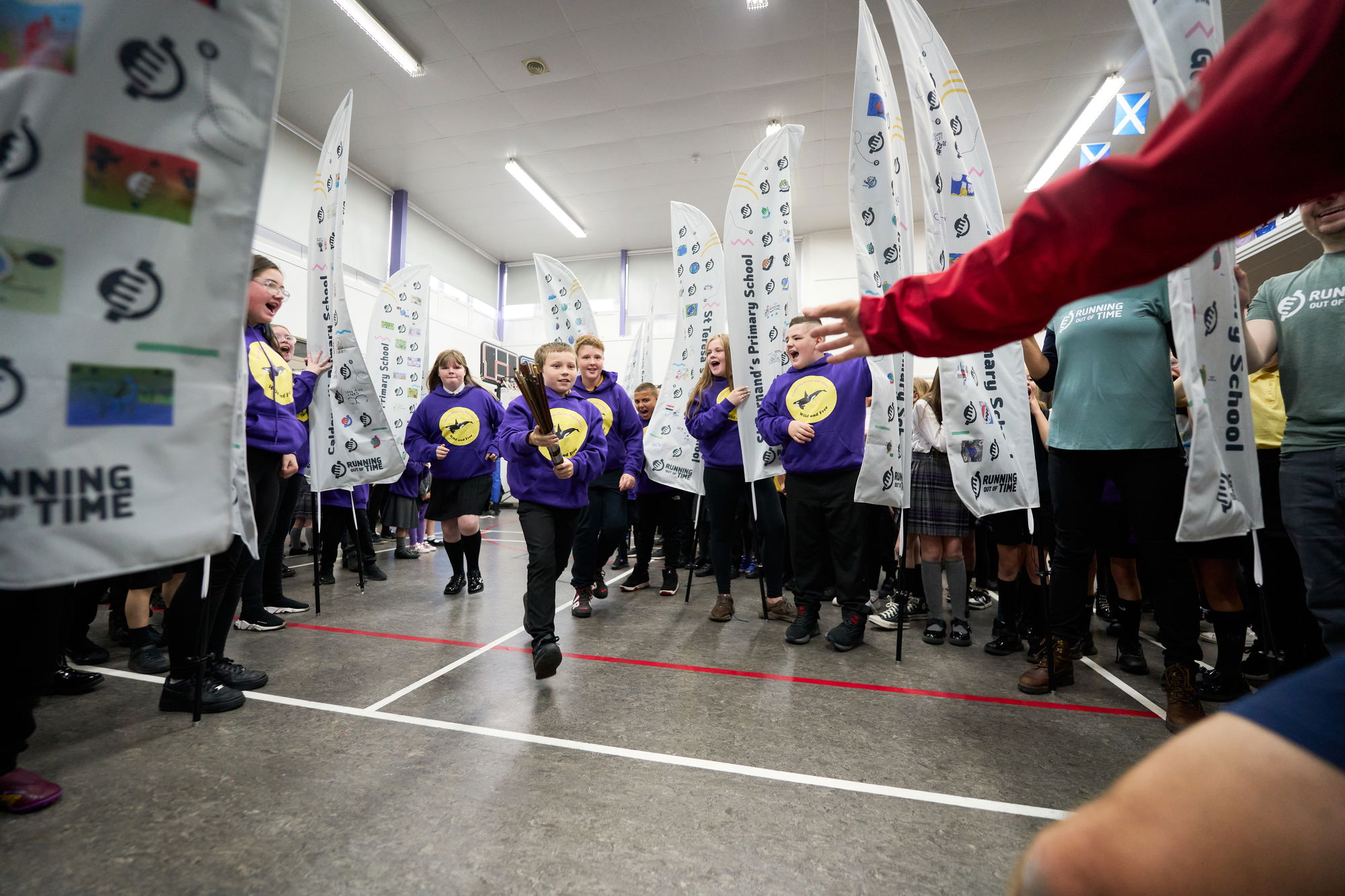 Taking 40 days and nights, it's the longest non-stop relay ever attempted.
The Glasgow opening stage coincides with Scotland's Climate Week 2022. The Running Out of Time organisers, together with Glasgow City Council, Great Scottish Run, Education Services PEPASS Team, Keep Scotland Beautiful and GlasgowLife launched the relay at Sunnyside Primary School (Nature Champions of the Decade and an Eco-School) where the message was read out by Nikkole Bruce, Arran Muir and Alfie Crichton in Primary 7 year group before being sealed inside the baton for its 7,767km journey.
Running Out of Time Co-Founder Jamie Hay says "It's taken a huge collaborative effort to get this ambitious project to the start line. Our aim is to deliver a powerful message to the decision makers at COP27 with so much support that it is impossible to ignore if we're to have a hope of securing a transition to a safe climate future. Running Out of Time symbolises the very essence of climate action - it's an extraordinary, bold, ambitious plan that will only succeed because everyone has worked together. I know we can do it!"
Carried by runners, cyclists and sailors, the baton will journey on a route through Scotland, Wales, England, France, Belgium, Netherlands, Germany, Austria, Italy, Slovenia, Croatia, Bosnia and Herzegovina, Montenegro, Albania, Greece, Cyprus, Israel and Egypt - arriving to Sharm el-Sheikh on November 8th 2022 in time for COP27 which will take place from 6th-18th November 2022. It will be accompanied by an experienced support crew of James Levelle, Emily Scott, Abe Lim and Mike Borgen.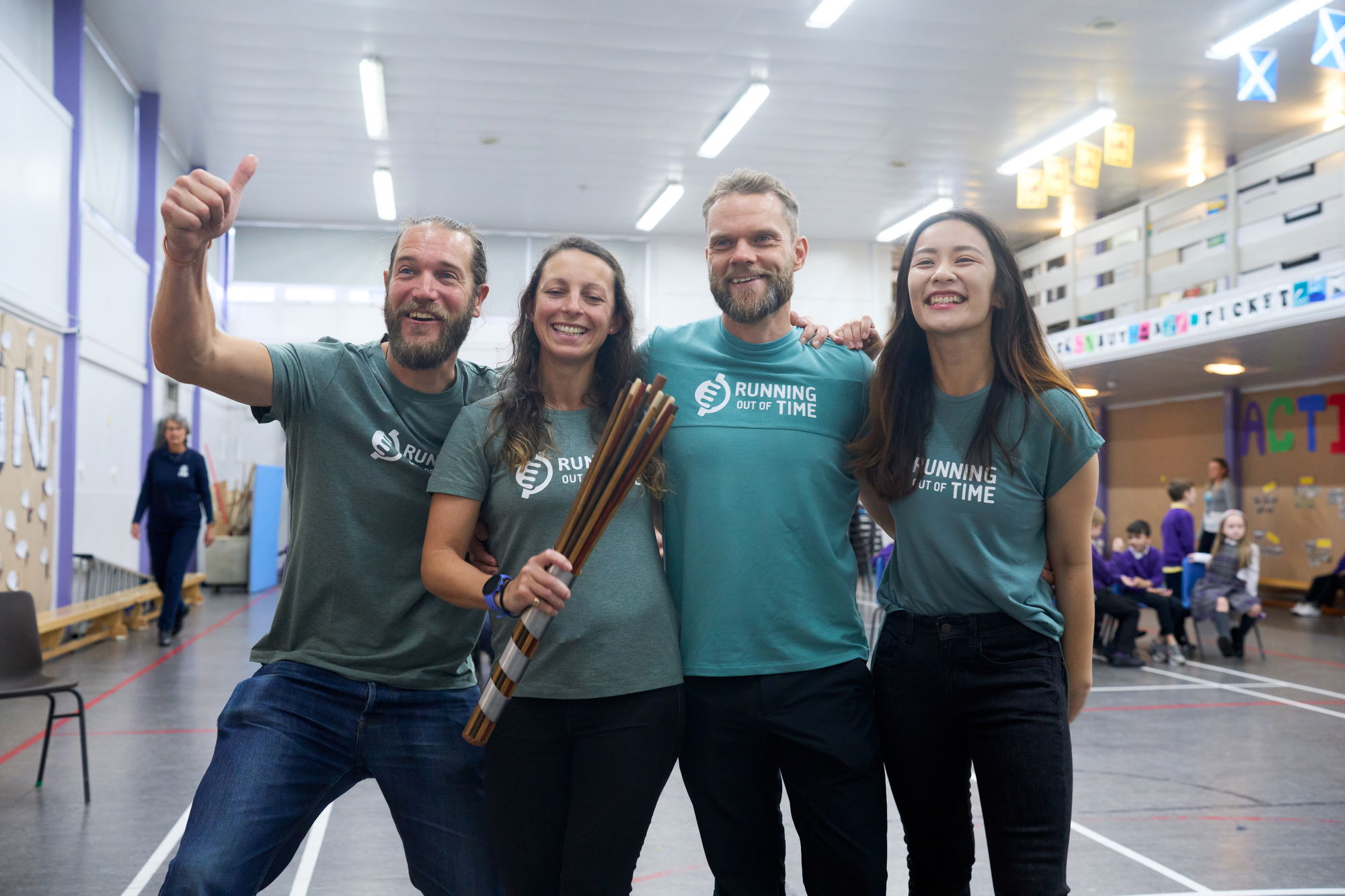 Leader of Glasgow City Council, Councillor Susan Aitken, said: "COP26 shone a light on just how dire the situation facing our planet is and that collective and accelerated action is the only option to save humanity from a global catastrophe. While nation states make pledges, it is cities, like Glasgow, that are delivering on a low carbon and climate resilient future and must remain central to future policy decisions and action. Now we must keep up the pressure on world leaders and governments to make sure that commitments of the Glasgow Climate Pact are delivered. The messages contained within the relay baton will, I'm sure, continue to convey that strength of feeling that we saw here in Glasgow last year. Participating in the Running Out of Time relay to COP27 is another opportunity for Glaswegians to have their voices heard and to show their continued commitment to fighting climate change."
Runners will carry the baton in 5-10km stages of the route which crosses seas, mountain ranges, glaciers, and deserts, villages, towns and capital cities. It will visit hundreds of schools, at-risk locations and climate change projects to inspire and champion local climate action including 27 in the UK alone, starting in Scotland with a baton exchange at the Whitelee Wind Farm, the UK's largest onshore wind farm, and Tarras Valley Nature Reserve.
At the same time, runners will be fundraising for the Foundation for Environmental Education's Global Forest Fund and Carbon Copy.
The official relay baton has been created by award-winning Glasgow-based designers 4c Design whose many accolades include the Glasgow 2014 Commonwealth Games Queen's Baton. The iconic spiral design of the Running Out of Time baton represents the four essential layers of climate action - international, national, local and individual.
The climate message written in English and Arabic to decision makers at COP27 will be sealed into the baton at the opening ceremony. The message was crafted by the Foundation for Environmental Education together with Sunnyside Primary School, Glasgow. It says:
We are Running Out of Time.
Quality climate education is critical if we are to equip people of all ages and in all places with the knowledge and skills necessary to build a future in which all can thrive.
Young people need to be recognised as leaders, placed at the forefront of the conversation about climate change and empowered through education.
We are calling on the world's leaders to provide us with the skills and training to build a sustainable world.
Our world is warming and to keep the increase to 1.5 degrees we need forward thinking, consistent policies and funding to help us reach Net Zero Emissions.
We are committed to help build a future that is inclusive and sustainable for all.
Show by your actions, not just words, that you are too.
Help us get there!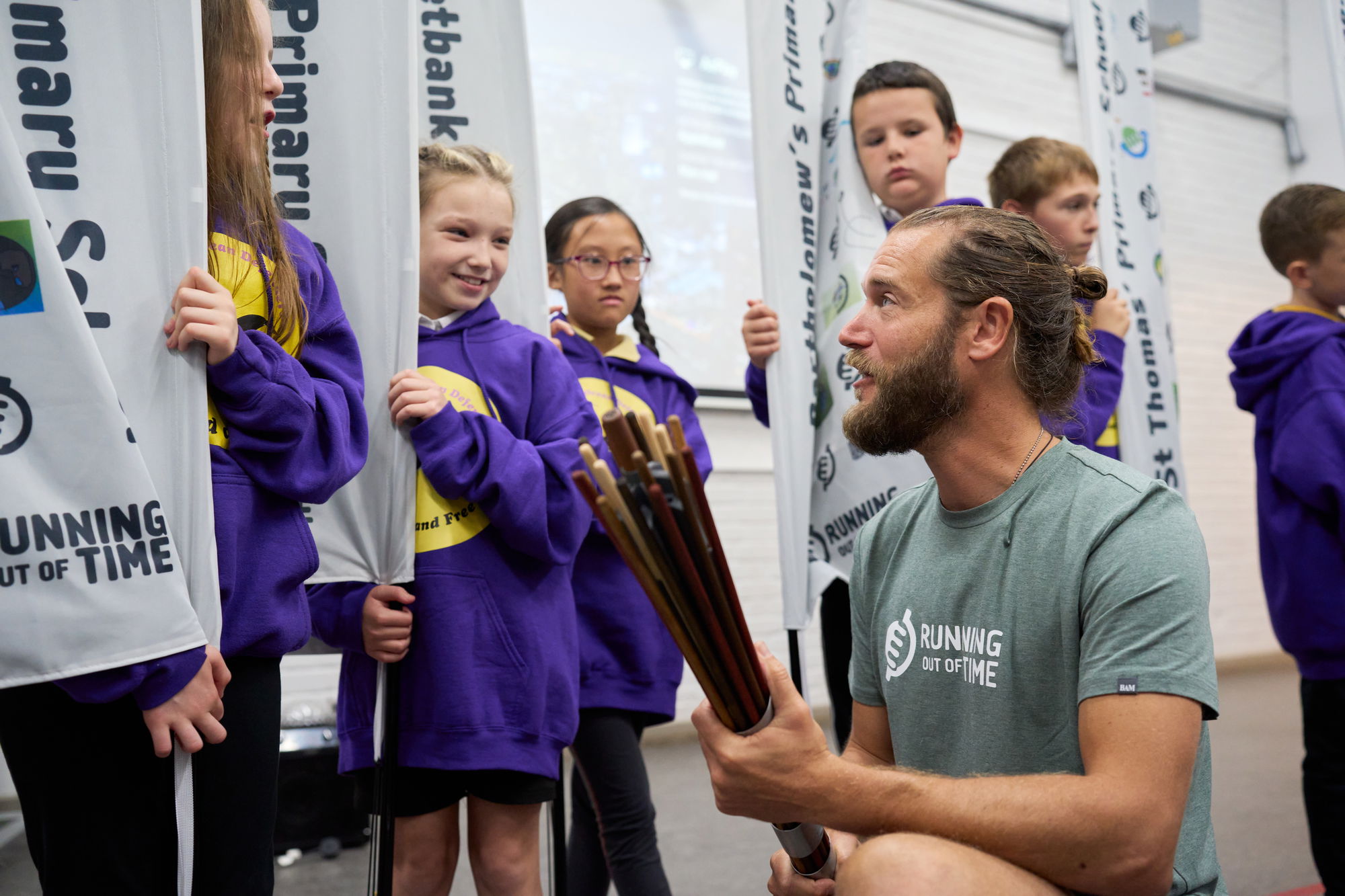 As part of the relay, more than 434,299 pupils from 736 schools in 82 countries have so far signed up for a Schools Action Day on 3rd November and up to a million are expected to take part. The exciting virtual educational programme will champion climate change solutions while empowering young people to create an environmentally conscious world through experiential, project-based learning.
People around the world who are unable to run a stage on the physical route won't miss out. They're invited to pass the baton during a Global Virtual Relay on November 5th 2022 which is expected to attract tens of thousands of runners in the name of climate action.
Running Out of Time is organised by The World Relay ltd and made possible thanks to the collaborative effort of a great many partners and supporters.
Learn more, take part and track the baton at www.running-out-of-time.com
– ENDS –
Press contact: Larissa Clark [email protected] +47 46852672 (Oslo)
Press Pack: including releases, images & B-roll: available via LINK
Opening Ceremony and Stage 1 media information sheet.
Website: www.running-out-of-time.com
When: Friday 30th September to Tuesday 8th November 2022
Where: Glasgow, Scotland to Sharm el-Sheikh, Egypt
Stats: 7,767km, 732 stages each around 10km long, 40 days.
Countries: Scotland, Wales, England, France, Belgium, Netherlands, Germany, Austria, Italy, Slovenia, Croatia, Bosnia and Herzegovina, Montenegro, Albania, Greece, Cyprus, Israel, Egypt
Social media: Instagram @climaterelay | Facebook @climaterelay | Twitter @climate_relay
#RunningOutOfTime
The Whole Route Timings: https://running-out-of-time.com/route/
Global Schools Action Day: Thursday 3rd November
Global Virtual Relay: Saturday 5 November for those who can't join the physical route
Baton Tracker: https://running-out-of-time.com/map/
About The World Relay Ltd are multi-award-winning global leaders in mass participation relays best known for their One Run series. Co-Founded by runners, adventurers and world record holders James Hay and Danny Bent, their mission started in 2013 with One Run for Boston; a non-stop relay across the US on behalf of the victims of the Boston marathon bombings. Since then they've organised relays all over the world including relays across the USA and two non-stop month-long relays in London. Awarded honours for these events include Runner's World 'Heroes of Running'. Over 200k runners have participated in One Run relays raising over £1.9 million for good causes.In 2021, 165 000 students and runners from 195 countries came together for global unity in the One Run Global Relay – a 24 hour virtual relay around the world. www.theworldrelay.com
Principal Partner Carbon Copy is a UK charity that inspires big-thinking local climate action to accelerate our progress towards a fairer, carbon zero future. https://carboncopy.eco/
Principal Partner Foundation for Environmental Education (FEE) is one of the world's largest Education for Sustainable Development organisations, with over 100 member organisations in 81 countries and a network of over 60,000 educational institutions. http://www.fee.global/
RELAY PARTNERS - https://running-out-of-time.com/partners including sponsorship from Ecotricity, Britain's greenest energy supplier.
Principal Partners
Foundation for Environmental Education (FEE)
Carbon Copy
National Partners
PPNEA Albania, DGU Germany, GoodPlanet Belgium, IVN Natuur Educatie Netherlands, FEE Italia, FEE DOVES Slovenia, Udruga Lijepa Nasa Zagreb, HPSN Greece, CYMEPA Cyprus, EcoOcean (Israel), Egypt GBC, Keep Wales Tidy, Keep Britain Tidy, Keep Scotland Beautiful
Expertise Partners
4c, Glasgow City Council, Capsule, Akron Aoton, Q Yachts, SW&CO, Another World Adventures, RedwoodBBDO, CSR Europe, Alpkit
Education Partners
Earth Day, UNESCO ASN, Office for Climate Education, Centre for Global Education, Let's Go Zero, Eco-Schools, Learning About Forests, Young Reporters for the Environment, North America Association for Environmental Education, Global Environmental Education Partnership, Tanzii TV, Earth Cubs
Running Partners
The Green Runners, Findarace.com, Tower Runners, Run Talk Run
Environmental and Media Partners
Green Key, Blue Flag, It's Great Out There, We Don't Have Time, Global Forest Fund, Global Center on Adaptation