3rd November
A truly global day of action in schools - 750k students unite in the call for Climate Action and Education
Taking place on Nov 3rd 2022 the Global Schools Action Day saw an incredible display of unity, as more than 752,393 pupils from 2,129 schools in 104 countries took part. It was a day for schools around the world to showcase how local actions have global impacts, and show COP27 they are leading the way on climate action!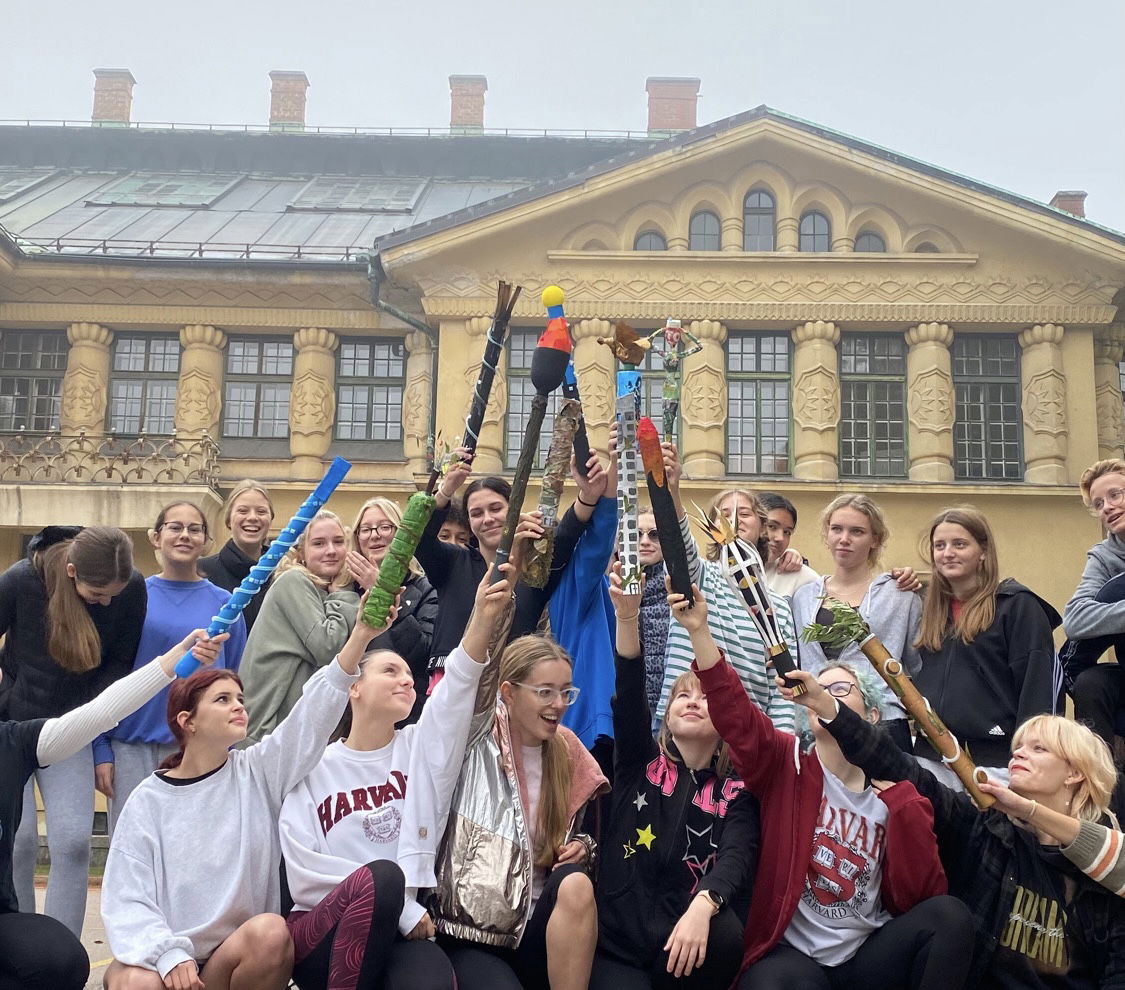 It was an unforgettable opportunity for students to join the call for universal Quality Climate Education, take part in a range of fun activities, and engage with programmes and resources from the world's leading environmental education organisations including our Principal Partners Foundation for Environmental Education and Carbon Copy.
Highlights included Gimnazija Maribor, Slovenia holding a huge intergenerational relay - with hundreds of people involved! Living School in Lismore created a song, inspired by recovery efforts after the devastating floods this year. Hristo Botev Elementary School, Varna walked to the beach strip and wrote out their eco message with shellfish. Jose Cardoso Pires High School Santo António dos Cavaleiros Loures cleaning and recovery of the lake on Global Schools Action Day and SU 'Louis Pasteur' in Bulgaria did a dance relay!!
Lauren Brown the Running Out of Time Schools Coordinator says "We've been overwhelmed by the support from schools across the world. Thousands of students have taken part in their own relay events and climate activities; the creativity, hard work, and passion of the students has shone through all of the wonderful pictures and videos that have been shared.
We wanted to empower young people to take action, and show them that their voices matter in climate discussions taking place at COP 27. Students have taken our message and our campaign, and turned it into a truly global call for action. One that can't be ignored."
Special thanks to everyone who worked so hard to make this incredible day happen. Particularly our Principal Partners and the Office for Climate Education, Glasgow Education, Let's Go Zero, Earth Cubs, and Taking it Global and of course ALL the teachers, educators and pupils involved in the event.
Running Out of Time is a record breaking relay attempt to deliver a climate message from young people to decision makers at COP27. Inside the relay baton which will travel 7,767km to arrive at the COP27 climate conference in Egypt is a message that says:
We are Running Out of Time.
Quality climate education is critical if we are to equip people of all ages and in all places with the knowledge and skills necessary to build a future in which all can thrive.
Young people need to be recognised as leaders, placed at the forefront of the conversation about climate change and empowered through education.
We are calling on the world's leaders to provide us with the skills and training to build a sustainable world.
Our world is warming and to keep the increase to 1.5 degrees we need forward thinking, consistent policies and funding to help us reach Net Zero Emissions.
We are committed to help build a future that is inclusive and sustainable for all.
Show by your actions, not just words, that you are too.
Help us get there!
Want to be part of the action?
Join 800,000 others and sign the baton message calling for climate education helping it arrive to COP27 with so much support it is impossible to ignore!
Website: www.running-out-of-time.com
When: Friday 30th November to Tuesday 8th November
Where: Glasgow, Scotland to Sharm el-Sheikh, Egypt
Stats: 7,767km, 732 stages each around 10 km long, 40 days.
Partners: UNESCO, Foundation for Environmental Education, Carbon Copy, all partners
Social media: Instagram @climaterelay | Facebook @climaterelay | Twitter @climate_relay

#RunningOutOfTime
ALL PRESS ENQUIRIES:
Larissa Clark, Press Office: [email protected]