Press Release: Wednesday 17th May, 2023
'Running Out of Time', Registration Opens for Britain's Biggest Sporting Celebration of Climate Action and Nature
Registration opens today for participants to sign up for a stage of Running Out of Time, an extraordinary 2,661km relay from Ben Nevis, Scotland to Big Ben, London in the name of climate action and the natural world.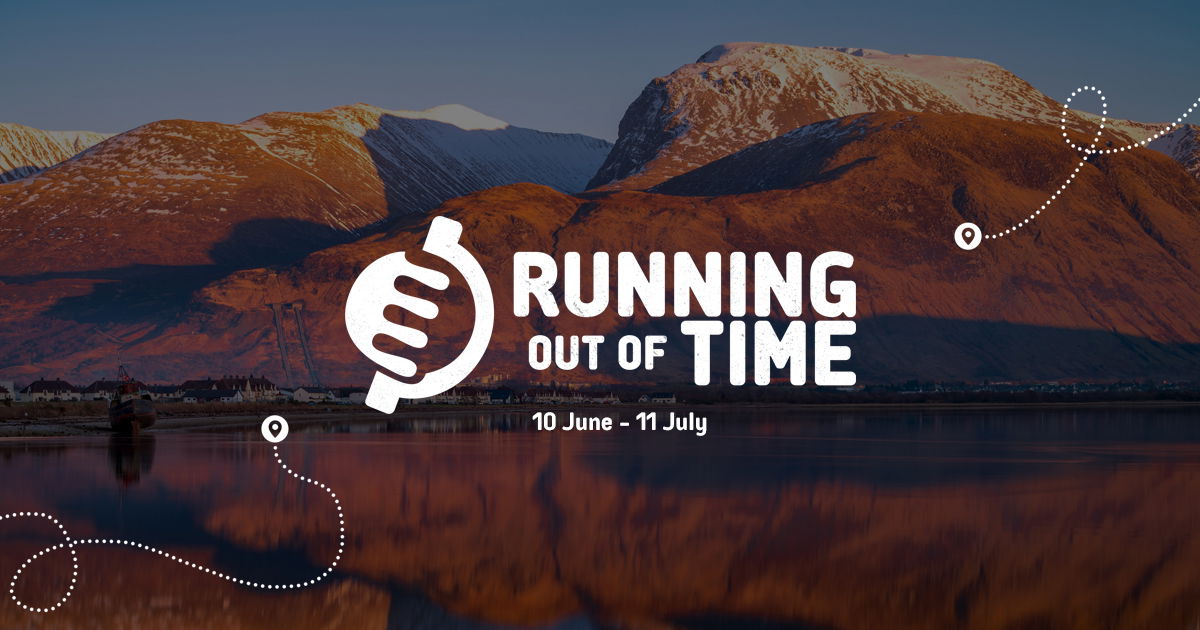 Running Out of Time will be the biggest sporting celebration of climate action and nature ever attempted across Britain. Taking place between June 10th and July 11th, thousands of runners, walkers, wheelers and cyclists will relay the baton 2,661km from Ben Nevis to Big Ben; inspiring the nation to take collective action NOW to reach net zero!
The relay will travel through 50 cities & towns and a range of National Parks and Areas of Outstanding Natural Beauty and will feature visits to historic landmarks, stunning natural sites, schools, universities, community projects, cutting edge technology, sporting venues and a host of different and crazy ways to move the baton!
Running Out of Time Co-Founder Dan Thompson says "It's taken a huge collaborative effort to get this ambitious project to the start line. Our aim is to highlight the incredible climate action and nature preservation work taking place across Britain and use the power of sport to literally connect these projects with an unbroken chain of participants. Running Out of Time symbolises the very essence of climate action - it's an extraordinary, bold, ambitious plan that will only succeed because everyone has worked together. I know we can do it!"
Highlights of the relay include;
Relay baton has the live 'Climate Clock' built into it, designed by award-winning product design architects Bang Creations,
ITV's weather team will be covering the opening and closing days and checking-in at various points along the route - keep an eye out for us!
Ascending Ben Nevis and visiting iconic landmarks such as The Kelpies, Edinburgh Castle, Sage Gateshead, Angel of the North, York City Walls, Warwick Castle, Bath Abbey, Hampton Court Palace, Royal Botanic Gardens, Buckingham Palace, and the Olympic Park.
The baton will be moved via a dozen sports; running, cycling, walking, wheeling, wild swimming, surfing at The Wave, paddling at the National Water Sports Centre, mountain biking, skiing, paragliding, dragon boat racing and Morris dancing.
Wonderful nature sites such as RSPB St Aidan's, Scottish Seabird Centre, reforestation at Dumyat, Attenborough Nature Reserve, Crymlyn Bog in Swansea and WWT's London Wetland Centre.
Etienne Stott, Gold medallist at the London 2012 Olympics (Canoe Slalom), environmental activist and campaigner, will be paddling with the baton at the National Water Sports Centre (Nottingham)
Paralympian, Anna Turney, is skiing with the baton in Birmingham
The Relay is among the largest events taking place during Great Big Green Week (10-18 June)
Visiting the UK's tallest wind turbine (Bristol)
Two inspiring 'Community & Climate Connect' events showcasing eco-friendly volunteering opportunities in Edinburgh (with Dr Heather "The Weather" Reid OBE) and Cardiff.
Together with Let's Go Zero, Earth Cubs and #ShowYourStripes, we're launching a National Schools Action Day on the 21st June, when hundreds of schools will join together in a national celebration of the incredible work that is taking place to combat climate change and biodiversity loss.
Who can run? Anyone over the age of 18 is welcome to sign-up to the relay route. They will need to be able maintain an average pace of 6 minutes 15 seconds per kilometre / 10 minutes per mile for the duration of a stage.
The general public can register to take part and pass the baton via www.running-out-of-time.com


Partner Quotes
Great Big Green Week
"We're really excited that the Running out of Time relay kicks off on the first day of Great Big Green Week this year. Great Big Green Week is the UK's biggest celebration of community action to tackle climate change and protect nature. Hundreds of thousands of people up and down the country will be taking part in events, running, walking and cycling in the relay, and meeting with elected politicians. Together with the Running out of Time relay and all our other partners we are calling on the government for urgent action for the safer, fairer, greener society we want and future generations deserve." Bronwen Smith-Thomas, Interim Director
DriveElectric
"As the Official Electric Vehicle sponsor for the Running Out of Time relay and advocates for sustainable transportation, we are proud to be involved and able to help the ROoT team by providing their support vehicle."
Ecotricity
"Ecotricity are delighted to support this important event, as part of the lead up to COP27. We need our world leaders to take action for the climate crisis, and a letter from our young people, having travelled by foot via thousands of passionate people, is a great way to send that message! Good luck everyone, we look forward to seeing you there." Paul Sands, Chief Growth Officer
Extreme International
"We are excited to be a media partner for Running Out of Time, offering advice and our team to help with media distribution of the event, as well as recommending partnerships along the impressively planned route. It is a delight to be working together!"
Carbon Copy
"Carbon Copy is delighted to be partnering with Running Out of Time to help get more people involved in climate action where they live. Together, we'll be raising awareness of hundreds of inspiring local projects across the UK and along the route, including co-hosting two exciting Community & Climate Connect events, in Edinburgh and Cardiff." Ric Casale, Co-Founder
Let's Go Zero
"This year we are the relay's Educational Partner supporting them to engage schools along the route, to provide class activities, live-streamed assemblies and more. Together, we are joining forces with #ShowYourStripes Day to create UK's first ever National Schools Action Day, celebrating what schools are already doing for nature and climate, and kick start the conversation."
Vegan Runners
"We are honoured to be part of the Running Out of Time 2023 relay and our members are very excited to be leading the runs for the relay attendees all over the UK."
Planet Mark
"Planet Mark are delighted to be supporting the Relay to engage businesses and help them to set credible net zero targets with the UN-backed Race to Zero campaign."
Green Runners
"We're excited to be partners with The Climate Relay and we would love to have you join our team."
-- ENDS --
EDITOR NOTES
CONTACT:
Press Contact:

[email protected]

+44 784 689 7213
Press Images: Available via LINK
Images: Credit: Mike Brogden Photography, unless stated otherwise.
KEY DATES
Registration opens: From May 17th 2023
Start date: Saturday 10th June 2023, Ben Nevis, Scotland.
End date: Tuesday 11th July 2023, Parliament Square, London
KEY FACTS
Duration: 32 days // Distance: 2,661km // Number of stages: 374 // Distance per stage (Avg.): 7km // Sports involved: Running, cycling, walking, mountain biking, skiing, kayaking, rowing, paragliding,
WEBSITE: www.running-out-of-time.com
SOCIAL MEDIA: Instagram @climaterelay | Facebook @climaterelay | Twitter @climate_relay
#RunningOutOfTime
RELAY LOCATIONS AND DATES:
Fort William & Ben Nevis, June 10
West Highland Way, June 10-11
Glasgow, June 12
Falkirk, Stirling & Alloa, June 13
Edinburgh, June 14
Edinburgh to Newcastle - June 14-17
Newcastle, June 17
North York Moors, June 18-19
York, June 20
Leeds, June 21
Manchester, June 22
Liverpool, June 23
Peak District National Park, June 24
Bakewell, June 25
Nottingham, June 26
Leicester, June 27
Northampton, June 28
Birmingham, June 29
Hereford, June 30
The Brecon Beacons, July 1
Swansea, July 2
Cardiff, July 3
Bristol, July 4
Bath, July 5
Bradford-on-Avon, July 5
Oxford, July 6
Reading, July 7
Windsor, July 8
London, July 9-11
ORGANISERS:
The World Relay Ltd are multi-award winning global leaders in mass participation relays best known for their One Run series. Their mission started in 2013 with One Run for Boston; a non-stop relay across the US on behalf of the victims of the Boston marathon bombings. Since then they've organised relays all over the world including relays across the USA and two non-stop month-long relays in London. Awarded honours for these events include Runner's World 'Heroes of Running'. Over 200k runners have participated in One Run relays raising over £1.9 million for good causes. 10,000 participants took part in the inaugural Running Out of Time relay last year, carrying the relay baton an extraordinary 7,767km non-stop relay from Glasgow (COP 26 host) to Sharm el-Sheikh (COP 27 host). 834,207 people signed the message inside the baton calling for universal climate education. www.theworldrelay.com
Running Out of Time is made possible thanks to the collective effort of a great many partners and supporters.
DriveElectric, Official Electric Vehicle Sponsor
Bang Creations, Relay Baton Creators
PARTNERS:
ITV
Extreme International
Bang Creations
Great Big Green Week
The Climate Coalition
Let's Go Zero
The Green Runners
Vegan Runners
Carbon Copy
Planet Mark
Earth Cubs
Ecologi
Mike Brogden Photography
DriveElectric
Champions for Earth
University of Reading
TAB London
Other Way